Secure Online Backup
In both the business and personal worlds we know that the information stored on your computer is more valuable than the actual computer itself. Why wouldn't you have it backed up in a safe place?
For anyone who has had their computer spontaneously com-bust before you've had the chance to hit the "save" button, you understand how frustrating this can be.
From business files to family photos, everything on your computer is at risk of being lost.
Not every file on the computer needs to be backed up but here are some suggestions:
Information and files relating to banking or other financial transactions
Digital photos
Purchased/downloaded music from the Internet
Purchased/downloaded software from the Internet
Important work/school projects
Email contact list
Internet browser bookmarks
Armada Data provides standard full featured online backup service at a competitive price. We worry about your data so you don't have to.
The Armada Data Online Backup system ensures complete privacy protection. We use a three-tiered encryption system that encrypts data on the user's computer. Users can also opt to use SOS UltraSafe™, an encryption process that protects your data stored on the server from even the engineers. Only the user who put it there can ever access the data. Unlike other online backup companies, where data is neither encrypted on your client, nor stored as encrypted data, Armada Data can prevent even employees of the company from accessing stored data.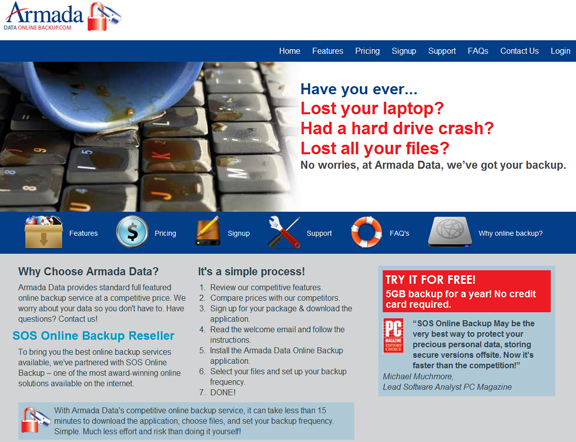 With Armada Data's competitive online backup service, it can take less than 15 minutes to download the application, choose files, and set your backup frequency. Simple. Much less effort and risk than doing it yourself!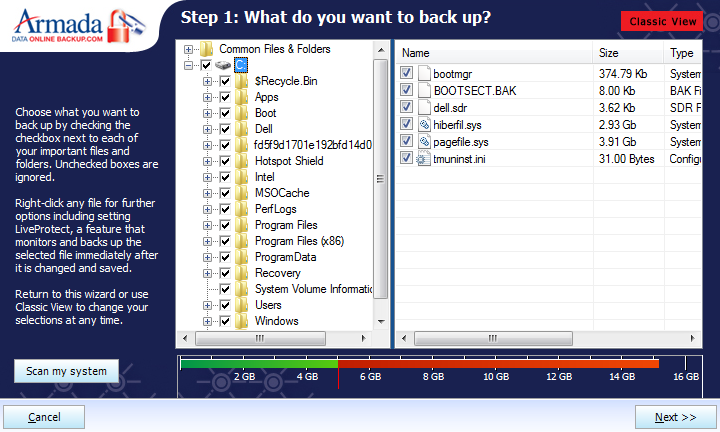 Click here to check out our plans today and sign up for a FREE 10GB trial!