ARMADA DATA ANNOUNCES THREE TOP-TIER HIRES AIMED AT DRIVING FUTURE GROWTH
"Experience, technology and smart marketing are the keys to our success"
MISSISSAUGA, ON – Armada Data Corporation (TSX-V: ARD) is proud to announce a trio of notable hires designed to provide a firm foundation for success going forward. Joe Glube and John Buenaventura, Sr. each bring years of experience and a wealth of invaluable knowledge to the boardroom table, while Jeff Fryters is considered to be a highly regarded "blue chip prospect", eager to apply the latest marketing management techniques towards mastering today's (and tomorrow's) challenging business environment.
"Times are changing and new, revolutionary technologies such as self-driving vehicles have the potential to radically affect the way we own, lease and even drive vehicles," according to James Matthews, President & CEO of Armada Data. "One thing that won't change, however, is the human factor. Our business may revolve around machines but people will always be the driving force for success. The addition of Joe Glube, John Buenaventura Sr and Jeff Fryters to the CarCostCanada team ensures there will be talented hands at the wheel, steering us towards a brighter future."
Joe Glube: Vice President & General Manager, CarCostCanada Dealer Division
Joe Glube is a tried and tested veteran of the auto sales wars, having spent just under 20 years as Senior Sales & Leasing Manager at Ready Honda in Mississauga. Joe has forged a winning philosophy built around custom cutting-edge solutions not found elsewhere in the automotive retail environment.
"My approach creates long-term relationships in an industry where that is not the norm," explains Joe. "I've trained staff to develop leads, close sales and turn those sales into lifelong customers." Joe's unique perspective was formed over nearly three decades in the auto sales industry, endowing him with prized expertise in providing solutions to a dealer's number one challenge: how best to handle their customers, both new leads and the existing database.
"Joe is the perfect choice to lead our Dealer Division," states Matthews. "He'll hit the ground running, consolidating current operations while working hand-in-hand with our existing team to expand to the next level. One of Joe's most appealing attributes is his familiarity with CarCostCanada – we've worked with him successfully time and time again over the course of his long tenure at Ready Honda."
John Buenaventura, Sr.: Website & Application Developer
John Buenaventura, Sr comes to Armada Data from Trader Corporation (autoTRADER.ca) where he had held the position of Software Developer since 2010. Under John's watch, autoTRADER has blossomed into a fast-growing leader in the digital automotive information industry boasting unrivaled consumer and dealer brand recognition. Prior to joining Trader Corporation, John was engaged for nearly four years as a Programmer Analyst at The Hunt Group.
John has a firm grounding in the fundamentals of business success, having been awarded a Bachelor of Science (B.Sc.) in Accounting at Far Eastern University. His studies then concentrated on Computer Systems and Design Programming focused on Computer Science at AMA University, the first ICT university in the Philippines and in all of Asia.
"John is an experienced, innovative Web Developer with an enviable history of success in the online media industry," explains James Matthews. "His demonstrated skills in Search Engine Optimization (SEO), SQL, Web Applications,
WordPress, and Agile Methodologies will be put to good use as CarCostCanada evolves to meet, master and integrate current and emerging technologies to the benefit of our clients."
Jeff Fryters: Business Development Specialist, CarCostCanada Dealer Division
A recent graduate of the University of Guelph, Jeff Fryters earned a Bachelor of Commerce degree (with honours) in December of 2016. Not one to let the ground cool under his heels, Jeff joined Penske Truck Leasing in March of 2017 as Rental Representative, a position he held for exactly one year before joining CarCostCanada's Dealer Division.
"Jeff epitomizes the gung-ho spirit that helped make this country great," states Matthews. "His relentlessly positive attitude backed by the latest academic marketing knowledge makes him a 'blue chip' prospect in today's ultra-competitive business environment." As Business Development Specialist at CarCostCanada, Jeff will be charged with ensuring customer satisfaction within a fast-paced environment, developing consumer and commercial solutions for local and national accounts, and generating new business leads while enhancing existing customer relationships. "We are excited to have Jeff join our team," adds Matthews, "and we welcome the infusion of youthful energy he brings."
"The future, as they say, starts Right Now," states James Matthews. "These three exciting new hires, whose salaries and compensation will be reflected on upcoming financial statements, have set CarCostCanada firmly upon the road for success for many years to come."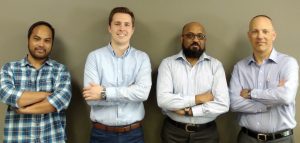 About Armada Data Corporation
Founded in 1999, Mississauga-based Armada Data Corporation is a Canadian publicly traded Information & Marketing Services Company providing accurate and real-time data to institutional and retail customers, through developing, owning and operating automotive pricing-related web sites and providing information technology and marketing services to its clients through B2C websites and through B2B applications. The corporation has pioneered an effective business model by capitalizing and monetizing new car pricing data that is not easily accessible to the general public or the business community.
Armada Data shares are listed on the TSX Venture exchange under the trading Symbol ARD. Armada currently has a total of 17,670,265 shares outstanding. Additional information relating to Armada Data Corporation is filed on SEDAR and can be viewed at www.sedar.com.
For further information, please contact:
Armada Data Corporation
Mr. R. James Matthews, President & CEO
Email: investors@armadadatacorp.ca
Neither TSX Venture Exchange nor its Regulation Services Provider (as that term is defined in the Policies of the TSX Venture Exchange) accepts responsibility for the adequacy or accuracy of this release.