For immediate Release: March 10, 2017
Armada Data Re-Launches Refreshed & Redesigned TheCarMagazine.com
"Canadian drivers now empowered by Canadian-specific automotive information"
Mississauga, Ontario, March 10, 2017 – Armada Data Corporation (TSX.V: ARD)  – Armada Data Corporation is proud to announce the re-launching of their refreshed and redesigned automobile information website, TheCarMagazine.com. The launch coincides with Armada's reinvigorated market outlook as a newly debt-free company.*
TheCarMagazine.com (TCM for short) is a user-friendly online portal with a mandate to be Canada's premier source for new car vehicle information. Debuting in May of 2002 and designed exclusively for the digital environment, TCM features an extensive library of new vehicle reviews, spectacular image galleries, and a wealth of CarCostCanada.com-powered new vehicle pricing data.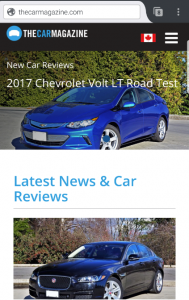 Potential vehicle buyers can browse through detailed reviews of new cars & trucks manufactured for sale in Canada – not only for the current model year but for previous years as well. TCM is a virtual fountainhead of informative automotive data ranging from discounts to buyer reviews and much, much more. The continually updated website boasts extensive new car research features geared to assist new vehicle buyers in navigating the everchanging automotive marketplace. This recent comprehensive refresh builds on years of constructive feedback by site users, resulting in a wealth of helpful features while further refining the "just one click" user experience.
"One of TCM's greatest virtues is that it's designed by Canadians, for Canadians," states Eli Oszlak, Chief Technology Officer for Armada Data. "Bombarded as we are by US-based media, Canadian new car buyers may be unaware that vehicles sold here are often built and packaged differently from their US-built counterparts."
Indeed, vehicles built for the Canadian market can have different model designations, different levels of standard and optional equipment, even different engine options. Online auto reviews pulled from internet searches and featured in the most popular car & truck print magazines are usually American-based, and as such don't mention these differences. "This can leave Canadian new vehicle buyers frustrated to say the least, adds Oszlak, "hindering their ability to conduct accurate research. In the end, Canadian vehicle buyers get hurt where it hurts the most: in their wallets. TCM puts the concerns of Canadian vehicle buyers front and center, saving them time and money."
As Canada's most comprehensive new vehicle buyers guide, TheCarMagazine.com addresses these issues head-on. Throughout its existence, TCM has highlighted the many disparities between US-built and Canadian-built vehicles. TCM's paramount objective has been and continues to be empowering Canadian new vehicle buyers with accurate, up-to-date data and information about Canadian-specification vehicles – the vehicles they'll actually be buying. This focus on domestic market vehicles makes TheCarMagazine.com the obvious choice when it comes to researching new cars in Canada.
TheCarMagazine.com enjoys a mutually-beneficial association with LeaseBusters.com, Canada's leading lease take-over destination, and FinanceBusters.com, your one-stop-shop for IPO Integrity Pre-Owned Vehicles. By virtue of its comprehensive domestic-oriented database, TCM has become the premier automotive research site for LeaseBusters and FinanceBusters members. It's a match made in car-owning heaven, since many customers will buy or lease a new vehicle after liberating themselves from their current obligations via LeaseBusters and FinanceBusters.
Armada Data hits the ground running in 2017 by virtue of being debt-free after repaying a corporate loan in full. "I am pleased that the Company's performance has allowed repayment of these Notes Payable," states Controller and CFO Elizabeth Matthews, "and I'm glad our cash position has recovered enough to pay them out." Matthews also states she is thankful to the related party company for providing loans that enabled the company's recovery.
About Armada Data Corporation
Armada Data is a Canadian publicly traded Information & Marketing Services Company providing accurate and real-time data to institutional and retail customers, through developing, owning and operating automotive pricing-related web sites and providing information technology and marketing services to its clients.
Armada Data shares are listed on the TSX Venture exchange under the trading Symbol ARD. Armada currently has a total of 17,670,265 shares outstanding.
Additional information relating to Armada Data Corporation is filed on SEDAR, and can be viewed at www.sedar.com.
For further information, please contact:
Armada Data Corporation
Mr. R. James Matthews, President & CEO
Email: investors@armadadatacorp.ca
Neither TSX Venture Exchange nor its Regulation Services Provider (as that term is defined in the Policies of the TSX Venture Exchange) accepts responsibility for the adequacy or accuracy of this release.